Home with more time and want to up your Instagram Feed?
According to eMarketer's research, Instagram will have 26.9 million users join the platform by 2020 which is almost double the projected growth of other social media platforms.

99 Firms
Whether you use it for work or for personal or both, it is a fun visual platform to express yourself and share your personal brand.
But, just like Pinterest, it can be time-consuming if you don't know how to make it easier. Fortunately, Tailwind can now help. (We talk Tailwind and Pinterest Algorithm updates Here)
I use and love Tailwind. So much so that I have become an affiliate partner. This post contains affiliate links, meaning that if you choose to click through and make a purchase, I will receive a small commission at no cost to you. I was also compensated to create this post, though all opinions are my own. Thank you for supporting Immensely Social so I can keep all the free content coming!
I started using Tailwind for my Pinterest obsession. It helps me so much share blog posts, my Skillshare classes, and find great new content to pin every month. All in less time. And now they're here to help us out with Instagram too! Note: Instagram and Pinterest are separate paid subscriptions.
Tailwind for Instagram just got a complete makeover with tons of new features alongside the already great core features:
Core Features Tailwind For Your Instagram Feed
Auto-Publishing
Smart Schedule
Hashtag Finder
Some New Features we love in Tailwind For Instagram
Drag and drop calendar so you can preview your feed before you post
Mad-lib style caption suggestions to keep your creativity flowing
Content plans customized to your goals
And an all new-and-improved UX
It's Like Having An Instagram Feed Assistant
If you have tried to manage your Instagram in a spreadsheet or doc with all your hashtags, you know it's just not pretty! But Tailwind makes the process much prettier, but also much more productive. Your Instagram feed will thank you.
With the smart assistant, you can edit your posts while looking at your image with a description, location, and even a list of your popular hashtags. You can even get caption help which believe me I need. Especially for our baking business. It's a new account and I'm already running out of things to say. But the caption templates get the creativity flowing again.
Let Me Show You How To Get Started With Tailwind For Your Instagram Feed
Since our Sunday Brunch Cuenca Instagram is a newer account, I'm excited to use Tailwind's help to get the account growing. Once you add and select your Instagram account, Tailwind will help you set up the Smart Scheduler. Tailwind checks out your account and determines when is a great time to post and how often. You can customize your posting times even more if you like.
Once you have Personalized your schedule, you can draft your first post. The cool thing about this is that you can use desktop or mobile and they sync.
As you can see, since my Instagram account is a business account, I can even schedule posts automatically. Wondering if this is safe for your account? Yes! Tailwind's scheduler is 100% Safe to Use. Tailwind is an official Instagram and Pinterest Partner tool.
The notification at the top of my dashboard lets me know I can set up the auto-posting. To the left, I can upload my first Post. To the right, I can see my current Instagram Page. For this Instagram account, I like to balance yellow, red, and orange, with the more earthy tones of our bread and coffee. So I love being able to see the current feed to decide what to post next for balance.
For the Immensely Social Instagram, I am testing creating Instagram puzzles. Being able to see my feed to know what image comes next will be super helpful for that too.
If you already have your picture you can upload it. Or you can select to use a stock image. It's integrated with Unsplash.com my favorite stock site.
I have an animated post already created with Canva that I want to share so I will upload it.
Animated post is saved as a video mp4 file and Tailwind allows videos too!
Your first time uploading, Tailwind will give you a little guided tour in case you need help.
Once you choose your hashtags, description, and add your post to the Queue, it will show up in your visual scheduler filling in the first available time slot.
Let's explore the caption help now:
We can choose the purpose of the post for ideas- inspire, connect, promote, etc.
You can copy the suggestion you like and then edit it to fit your account. You can also explore curated examples, see what holidays are coming up, or check out post prompts. I used a caption template for an idea about what I wanted to say. Added some emojis and the suggested hashtags.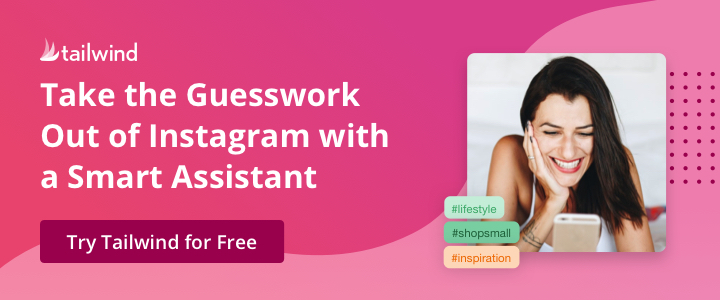 Pro Tip: Tailwind will let you know what hashtags are Niche, Good, Best, and Competitive. To get your post seen by more people, try to use a blend including less popular ones with less competition and maybe even a Niche hashtag just for your account alongside the more competitive hashtags.
Once my post is scheduled, I can see it in the "Scheduled" tab and adjust it if needed. I want this one to go out earlier in the morning so I will adjust the time.
I then set up auto posting by connecting our Facebook page so Tailwind will post this to Instagram for me and I don't have to do a thing. Tailwind uses Facebook to get permission.
Then you can choose which account and page. We have a matching Facebook page so I chose that one and then allowed access.
Now My Instagram Post will Auto Post via Tailwind!
It's that easy!
More Time Saving Features
You can now post more, faster, and have help optimizing your posts. If you love to schedule on-the-go you can with Tailwind's revamped mobile apps. Tailwind for Instagram can even auto-update your bio link so you can drive more traffic to the exact link you want every time. Easier and less time means you can be more consistent. I have seen time and again that Consistency is Key for everything including your Instagram feed. And now I will not have to go in and change my bio link every time! Thank you Tailwind.
Content plans will give you the inspiration to schedule many posts at once and feel free again.
Not sure what to post? Content plans provide ready to use post ideas customized to your business type so you're always ready to create. Think of them like marketing MabLibs for your Instagram caption!

Tailwind
As a writer by trade, I'm not too thrilled about the writing bots that are appearing out there. But this...THIS is the good side of automation ya'll! You can try Tailwind free for up to 30 scheduled Instagram posts.
Free training too:

Ready to get your posting on?! Leave me a comment and let me know what you're most excited about now for your Instagram Feed.